Upgrade Your Home in Destin, FL, with Vinyl Replacement Windows from Majors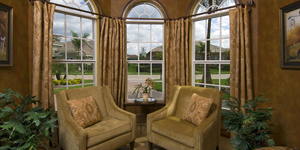 Since 1997, Majors Home Improvement has been dedicated to enhancing the homes of residents in Destin, Florida, and across the Panhandle region by installing vinyl replacement windows and other products. We are committed to providing a positive renovation experience, which is why we always ensure our customers receive Red Carpet Service when working with us. This means you can expect more than just factory-trained craftsmen who deliver expert installation service. We also promise to be respectful of your home and landscaping, take care to lower the stress of your pets, and leave your home cleaner than when we arrived. At the end of the installation, a project manager will walk you through the work we did to ensure your satisfaction was met.
Majors Select™ Vinyl Replacement Windows
Aside from the standout service we provide to our customers, what makes Majors the go-to windows installer in the area? Consider our Majors Select™ vinyl replacement windows. They are:
Designed to operate effortlessly in any weather condition without contracting or expanding
Warranted against rotting, rusting, cracking, warping, peeling, and fading in color
Energy efficient, featuring welded frames and sashes, insulated glass, and multiple air chambers
Constructed with interlocking meeting rails that add security and structural integrity
The windows we install for you will be custom manufactured, and you'll be able to design them to meet your aesthetic preferences. Choose from numerous styles, exterior colors, interior wood-grain finishes, hardware, grid and glass designs, and more.
To learn more about our vinyl replacement windows, contact Majors Home Improvement today. When you do, we'll be happy to schedule a complimentary consultation at your home in Crestview.